WELCOME TO
THE TIC TAC BOX WEB PAGE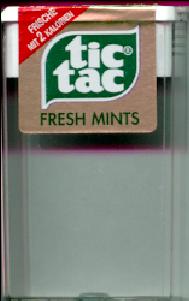 ---
WE HAD 220 TIC TAC BOXES
WE HAVE BEEN REJECTED BY THE GUINNESS BOOK OF WORLD RECORDS!! THIS BITES!!! WE ARE NOW OFFICIAL REJECTS OF THE GUINNESS BOOK OF WORLD RECORDS!!! YES. WE CAN CONQUER THE WORLD!!!
THE TIC TAC BET HAS NOW ENDED AND WE DID NOT WIN. IT IS VERY SAD, I KNOW. BEFORE WINTER HOLIDAY WE HAD TO CLEAN OUT THE TIC TAC LOCKER. ALL 200 TIC TAC BOXES HAVE BEEN GIVEN TO ANDREW.
UPDATE
Andrew has thrown away all the tic tac boxes. I am very sorry for all of those people who actually did not want this to happen. That is the end to the tic tac boxes. A funeral will be held in their memory on the 37 February, 2037. Let's all take 37 milliseconds of silence to honor the memory of these wonderful tic tac boxes. Thank you.
CHECK UP NEXT TIME!!
---
TIC TAC BOXES ARE NOT JUST MINTS THAT YOU EAT. TIC TACS ARE MINTS IN BOXES. THE BOXES ARE WHAT'S IMPORTANT. SO EAT TIC TACS OR GIVE THEM AWAY, IT DOESN'T MATTER. JUST SAVE THEM AND GIVE THEM TO THE TIC TAC BOX LOCKER FUND!!!
---
---
Things to do with tic tac boxes once you've been rejected from the Guinness Book of World Record
1. Melt them
2. Float them down river
3. Explode them
4. Crush them
5. Enter into yearbook
6. Send back to manufacturer
7. Race against Matthijs' warhammer figures down stream
8. Ski down a ski slope
9. Sell them
10. Flush them
11. Give them to charity
12. Paint and clothe them
13. Corrode them
14. TV series
15. Hang up on wall
16. Threaten to let loose fumes on scheme to take over the world
17. Space craft for ants
18. Build something
19. Clone them
20. Make Guinness Book of Records cover out of tic tac boxes
21. Burn them
22. Put them on a wall
23. Put them on music room walls as insulation
24. Send Guinness Book of World Records tic tac box mail bomb
25. The first house built and furnished with tic tacs
---
SOME COOL WEB LINKS
My French Stories Page